Tom Ellis' Familial Ties To The Church Make His Lucifer Role Even More Humorous
As Lucifer Morningstar, fans loved Tom Ellis' portrayal as the conflicted and complicated ruler of Hell, who's come to Earth to get a better grasp on humanity. Despite being canceled by Fox and then revived by Netflix, the series maintained a strong fanbase. "Lucifer" was consistently near the top of the ratings board when its sixth and final season aired (via IndieWire), and Ellis was a major reason why. Many viewers were blown away by his ability to completely inhabit two different characters on the show, Lucifer and his brother Michael. On a "Lucifer" Reddit thread, r/Boomersgang remarked that "The body language, vocal cadence, and posture to name just a few things are completely different. He is a phenomenal actor."
Ellis even did his own singing on Lucifer, surprising everyone with a hidden talent. Lucifer's evolution on the show from the typical baddie to much more was something Ellis expected. "I knew that if we had any longevity to this series, then he's someone who was going to evolve as a person very much on a journey," he told Gold Derby. "I always thought the show was a journey about redemption, like the ultimate redemption story of the most irredeemable of characters perceived by humans over history."
What many fans don't realize is how religious his family is, making his choice to play the actual devil all the more interesting.
Ellis has four pastors in his family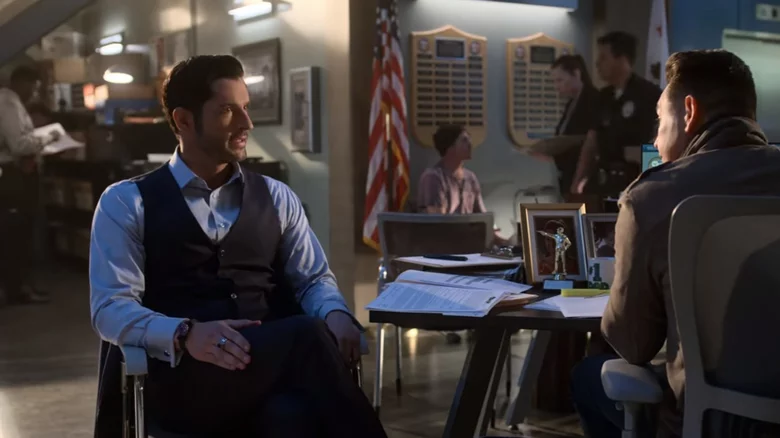 Tom Ellis as Lucifer looking exasperated
Netflix
Given Tom Ellis' family's vocations, it's probably safe to assume that God and religion play a pretty big part in his life. "I come, basically, from my own private super church," he told E! News when the series first began airing. "My dad and my uncle, my sister and her husband — my brother-in-law — they're a pastor team." While it's easy to assume that having such a religious family would make the decision to play a character like Lucifer difficult, Ellis is adamant that couldn't be further from the truth. "They're all really great about it, I mean, they're obviously really supportive of my career," he told Fair Game's Kristine Leahy in 2019. "Weirdly for me, the nicest messages I get are from Christians or from congregations where people have embraced the story that we're telling in order to sort of help tell their story."
Ellis has talent, and put as much care into his role as the devil as he has for his roles as Apostle Philip in 2008's "The Passion" or Father Jacobs in 2012's "Silent Witness." And it should be interesting when it all comes full circle, as he is playing God in cat form in the upcoming animated series "Exploding Kittens" (via TV Line).