NCIS: Los Angeles Season 14 Episode 18 Review: Sensu Lato
With the series' end in sight, OSP team members have begun to look ahead to the future.
Sam got an unexpected offer this time out, and Rountree considered what his future held on NCIS: Los Angeles Season 14 Episode 18.
Then again, Kensi and Deeks pondered their past and present instead. That's part of being parents. Your child's future takes priority instead.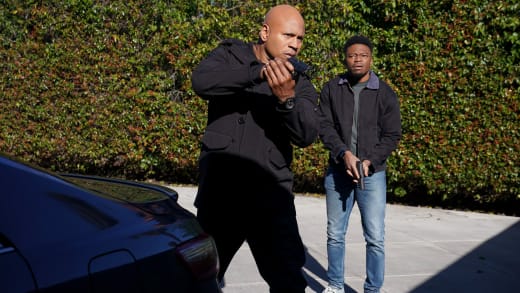 The most surprising development was Kilbride offering Sam the interim operations manager position, the role that Callen has held all these years.
The fact that Kilbride was even mulling this change must mean that he's planning to spend more time outside of L.A., perhaps with his son, Alex.
That would be a fantastic development if Kilbride's position were freed up so that Hetty could return that much earlier. But that's probably too much to hope for. We're likely still just getting a Hetty cameo in the finale.
Kilbride was correct that Callen has more than usual on his plate.
He's always had some side investigation going on. But now, not only is he pursuing the elusive Pembrook in his search for answers about his past, but also he's planning his wedding to Anna.
And apparently, Callen still has too much time on his hands as he was shipped off to San Diego to help the NCIS office there with an investigation involving Russians. We should be content that Callen's absence was actually accounted for, unlike so many other character disappearances this season.
Kilbride knew that Sam wanted nothing to do with the job. That's why he couched his offer the way he did, asking Sam to take it for the good of the team. Sam is all about the team, after all.
Sam was wise not to dismiss Kilbride's proposal out of hand.
Yes, Sam has always been an action figure, first and foremost. But he is getting older, and his body knows it, even if his mind doesn't want to admit it. Also, while his children have moved on, Sam is the caretaker for his father, Richard, so his being closer to home isn't a bad idea.
Plus, who's to say Sam still has his longtime partner after everything shakes out for Callen? Sam has been partnered up with his disciple, Rountree, more often than not this season.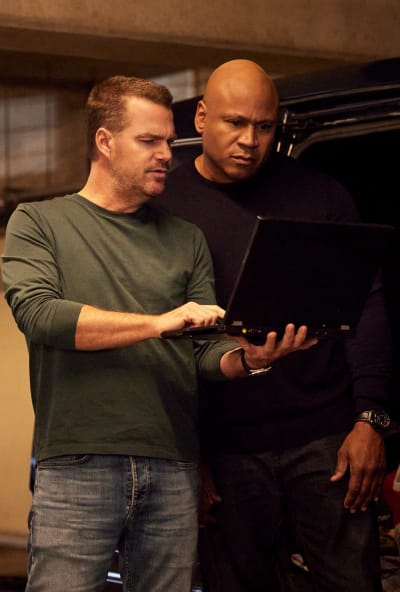 That was likely why Sam took the Hetty packet from Kilbride at the end, even if he wasn't quite yet ready to open it. Also, that ceremony begs the question: Why hadn't Kilbride passed that envelope along to Callen long before this?
Rountree was also pondering his future for those viewers who care. (For the record, he and Fatima did not push Eric and Nell out of Ops.)
Ever since he and his sister got arrested by racist cops on NCIS: Los Angeles Season 13 Episode 15, Rountree has shown discomfort at being part of the law-enforcement establishment.
Young Devin is starting to mature and look toward his future, just not in the vision board way, as suggested by Fatima.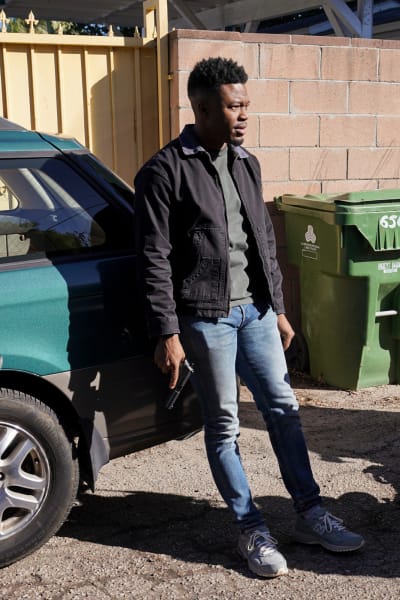 Apparently, Devin has taken some of the payout from the racial-profiling incident and made a wise investment that was paying off better than he anticipated.
His rekindled relationship with Summer has him thinking about settling down and buying a house (at least until Sam gave him an idea of how much a home in L.A. would cost).
He also planned to use his social consciousness when making his next investment decision (that's called a donation, isn't it?).
A case arose before Rountree could spell out more of his grand vision for Fatima. Maybe he should invest in pesticidal moths.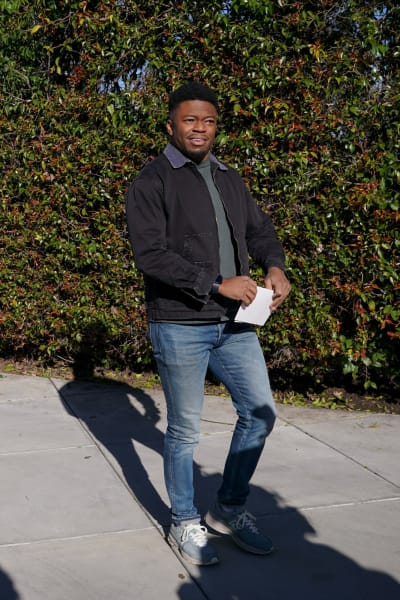 Kensi and Deeks' conundrum was one with which most parents could relate. There's not enough time to be a couple when you become parents.
This situation didn't seem equally a problem for the two of them. The new of being a parent hadn't worn off for Deeks, whereas Kensi was missing the good old days when they had time to do things as a couple.
Maybe it's a male-female perception thing, as Deeks and Kensi seem to share parenting duties reasonably evenly, which isn't always the case.
As usual, Kensi brought Deeks around to her position, and they pledged to have a regular date night. That's easy to say when Grammy Roberta is living nearby.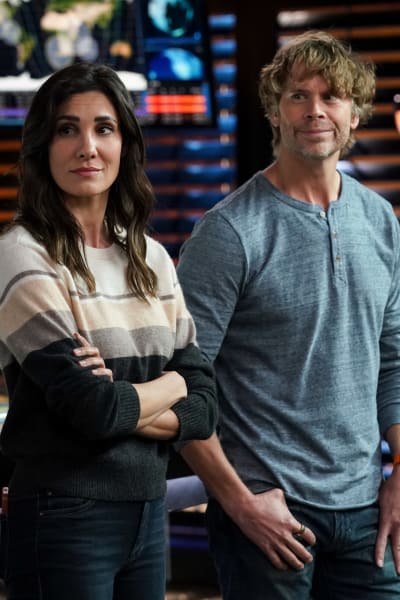 It was another one of those afterthought cases this week, with a bug researcher attacked in his lab. Having living insects rather than electronic listening devices was a nice change of pace, however.
The comatose researcher was clearly a humanitarian. Anyone who referred to insects as "my friends" had to be. Then his longtime partner mainly had praise for his efforts, with her only complaint that he was too dedicated to his work.
In the end, chemical companies outraged by Howard's negative assessment of their pesticides were likely a villain even if they weren't guilty (at least in this case).
But you can't go wrong with the Chinese Communists committing intellectual theft, especially when there was a potential biowarfare twist. Having Fatima electronically shut down their SUV made for an abrupt, lame ending, but there were members' storylines to get back to.
To follow Kensi and Deeks' parenting adventures, watch NCIS: Los Angeles online.
Should Sam take Kilbride's offer?
Will Rountree leave NCIS in the future?
Were you bugged by the case of the week?
Comment below.