Man Is Accused of Marrying Plus-Size Wife for Money — They Prove There Is No Limit to Their Love
A plus-size woman said people heavily criticized her marriage to her husband of 15 years, and she received a slew of negative comments that questioned the love they had. Please keep reading to discover how she responded to the criticism.
Everyone's perception of beauty tends to be different. But true beauty lies skin deep and comprises one's character, good heart, and everything else that makes them unique. Many people might struggle with beauty standards and wanting to fit into the societal frame.
However, beauty has nothing to do with how worthy or lovable a person is; sometimes, it might take people a long time to realize such significant lessons. The story we're sharing today is about a couple who defied the critics and proved that true love conquers all.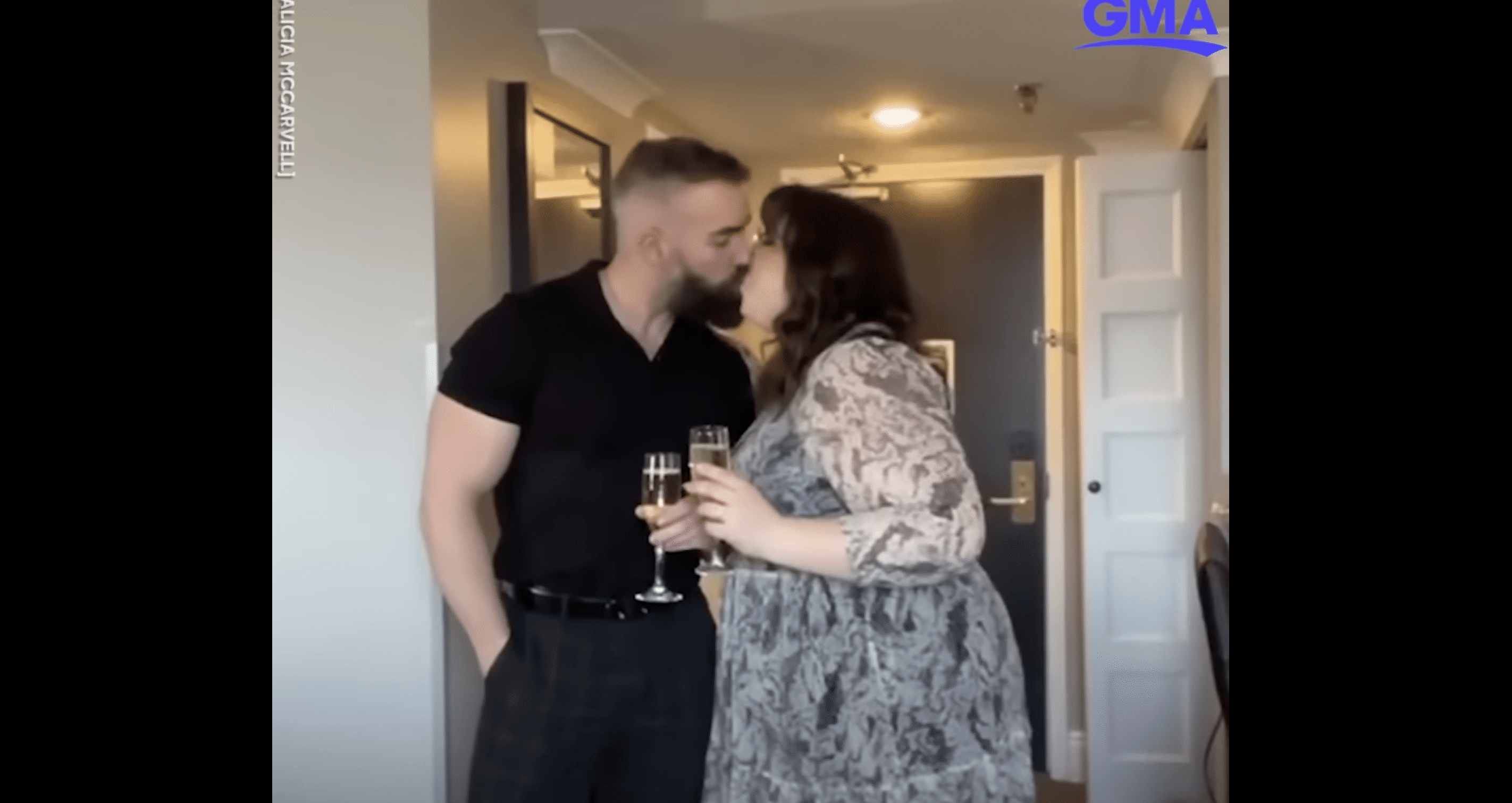 Scott and Alicia Mccarvell share a kiss. | Source: YouTube.com/Good Morning America
A BODY-POSITIVE INFLUENCER
Alicia Mccarvell is a body-positive influencer from Canada and has a massive following of over five million followers on the popular video-sharing platform, TikTok. She is happily married to the love of her life, Scott Mccarvell, whom she met when she was only 15.
She often documents her life as a married woman on her social media, where her videos garner millions of views and comments from netizens. In June 2022, Alicia posted a TikTok video where she was seen cozying up to her husband. The caption read:
"My forever wedding date."
RECEIVING CRITICISM
The 12-second video showed the couple in towels, after which they appeared all dressed up, ready to attend a wedding together. The viral clip has received over 35.7 million views to date, coupled with more than 60,000 comments.
Alicia said that one commenter slid into her husband's DMs and told him he should be with someone who looked like her.
But contrary to her thoughts, Alicia said people heavily criticized her romantic moment with her husband. She noted that some people accused Scott of being with her because she was rich, while others wondered if he was secretly gay or had a "fat woman fetish."
"WE DON'T MAKE SENSE"
But that wasn't all. Per the body-positive influencer, some people even said she must not have been fat when her husband fell for her. As the negative comments continued to pour in, Alicia decided to respond to the haters in another video. She said:
"I posted a simple transition video of me and my husband going from towels to dressed up together. This is not unlike what all kinds of different couples do on this app. My video went viral, and I know we all know why. It's because by beauty standards, we don't make sense."
She stated that when people looked at her and Scott, they instantly valued him more than her. Alicia said that according to people, she and her husband's relationship equation didn't add up, so they tried to add things to it so it would make more sense to them.
THE SOCIETAL BEAUTY STANDARDS
The TikToker also touched upon another pertinent issue — the societal beauty standards that she believed many people had grown up trying to fit into their entire lives. She added:
"We've been made to believe that somebody who is physically fit like Scott could never in a million years be in love with or compatible with a fat woman. And that's solely because the world has literally taught us that we have to value our worth [based] on our bodies."
She expressed her sadness for people who believed their worth in a relationship was solely based on their physical appearance. Alicia said that one commenter slid into her husband's DMs and told him he should be with someone who looked like her.
A PERSON'S TRUE VALUE
She said that the woman who contacted Scott was a "10 out of 10 by beauty standards," but people's value didn't lie in how well their bodies fit into society's beauty standards.
The TikToker mentioned that just like she had undervalued herself based on her body, the commenter was overvaluing herself based on how she looked. Alicia said her husband valued her for her humor, love, commitment, and caring heart. She also shared:
"None of these things that [Scott] values about me change if my body changes. So when someone slides into his DMs leading with their body first, he's asking, 'But what else?'"
THE SUPPORTIVE COMMENTS
Alicia's response video, where she hit back at the internet trolls, has been viewed more than 20.5 million times to date. In addition to the negative comments, she also received supportive and encouraging messages from her followers. One person wrote:
"Your advocacy is incredible. You boost me everyday!"
A second user said: "I think it makes perfect sense! He's lucky to have you! You are a doll!!!!" A third one added: "So well said & spoken. I just don't really have words for how cruel ppl can be. You & Scott are both beautiful humans & love that u found one another (sic)."
Another netizen commented: "It never fails to amaze me how sad and bitter people are to project their own insecurities and failures onto others."
"The comments come from pure jealousy. People wanna be loved so badly and can't handle it when someone else receives that. It's sad (sic)," said another user.
Alicia said that for a long time, she pushed Scott away because she didn't think she was worthy enough of his love. She further revealed:
"I spent many years feeling like I wasn't worthy of many things. Happiness, a great career, the love for my partner. Scott has been my partner since we were 15 years old. His love has never changed for me."
The TikToker mentioned that she wished for everyone to unlearn things and understand that their body had zero impact on who they are and how capable they are, which she believed was incredibly freeing as a human being.
The Mccarvells continue to share their love with the world, and their lovely relationship is proof that regardless of what someone says, what makes us beautiful is our loving heart and how we value and care for each other.
Please share this story with all those who have been made to see themselves as anything less than extraordinary. If you liked reading this story, share your feedback with us in the comment section on Facebook. Please stay tuned for more exciting content.