Jimmy Carter Met Wife a Day after Her Birth – They Have Been Married for 76 Years despite His 'Adultery'
Jimmy and Rosalynn Carter are living examples of true love. Although they have gone through many challenges, they have been married for 76 years and counting.
The love story of former POTUS Jimmy Carter and his wife, Rosalynn Carter, is straight out of a fairy tale, and it proves that they were always meant to be together.
After 76 years of marriage, four children, and a four-year presidential tenure, they are still in love. Here are the details about the longest-married presidential couple's romance, the challenges they faced on the road, and his "adultery."
MEETING ROSALYNN FOR THE FIRST TIME
Born in October 1924, Jimmy grew up with his businessman father and nurse mother in and around Plains, Georgia, a small town where about 600 people lived in the mid-1920s.
In 1927, Jimmy's mother helped deliver Rosalynn, her neighbors' first child. Jimmy's mom brought her three-year-old son over to see the baby one day after Rosalynn was born.
Years later, Rosalynn said that Jimmy "looked through the cradle bars and saw [her]." They didn't know it then, but a life together was in their future.
Rosalynn's family went through challenging times after her dad died at 13. She began working to help the family make ends meet. Still, she was an excellent student who graduated near the top of her high school class and fulfilled her dad's wish by attending college.
ASKING ROSALYNN OUT AND POPPING THE QUESTION MANY TIMES
Due to Jimmy and Rosalynn's three-year age gap, nothing romantic happened between them for years even though she was friends with Ruth Carter, Jimmy's younger sister. Their relationship's dynamic changed in 1945.
Jimmy was on a break from the U.S. Naval Academy in Annapolis and planned to date a Georgia beauty queen. However, she couldn't make it due to a family reunion.
He proposed with an engraved compact, but she said no.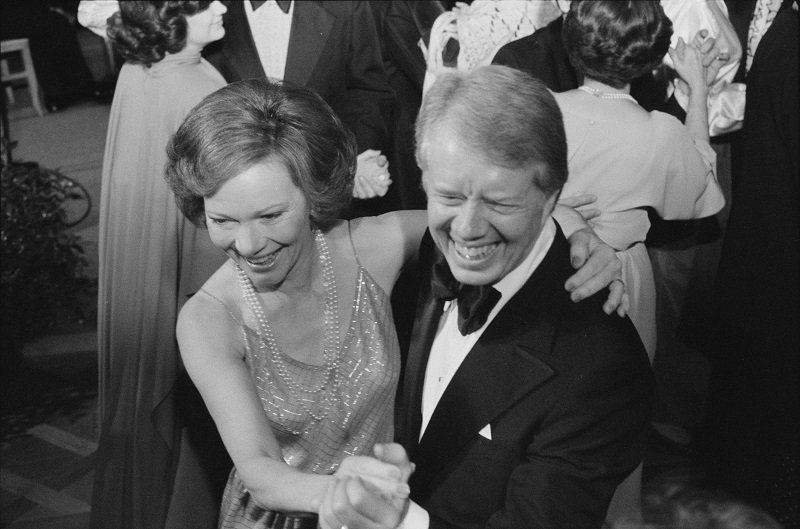 Jimmy Carter and Rosalynn Carter at a White House Congressional Ball, Washington, D.C. on December 13, 1978 | Photo: Getty Images
He still wanted to go on a date because he was about to return to Annapolis for "another time of isolation." He drove around Plains and saw Rosalynn and Ruth in front of the Methodist church.
Something about her struck Jimmy. He invited her to see a movie, and she said yes. When his mother learned about his date, she asked about his thoughts on Rosalynn, and Jimmy said:
"'She's the one I'm going to marry.' I knew that she was quiet, she was extremely intelligent… beautiful. There was just something about her that was irresistible."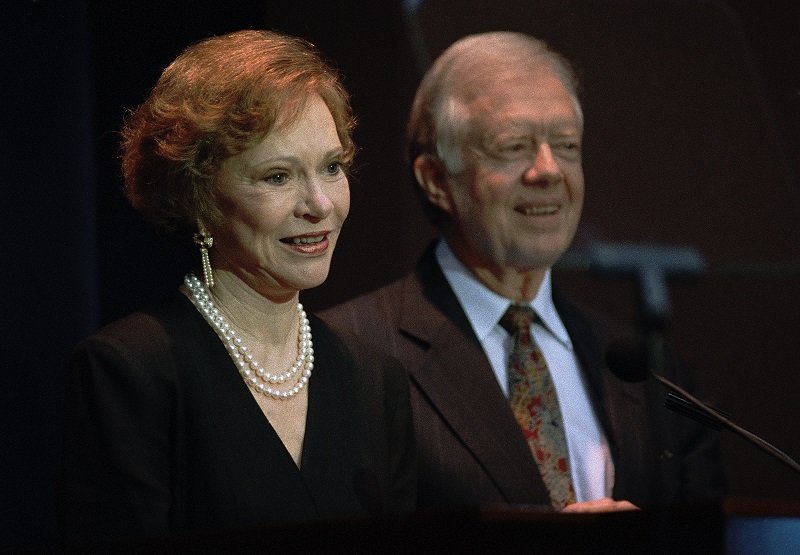 Rosalynn Carter and Jimmy Carter in Atlanta, Georgia, circa October, 1994 | Photo: Getty Images
Rosalynn, then 17, developed a crush on Jimmy when he became a naval officer and would walk around Plains in his white uniform. Ruth knew it, and she conspired for her brother to ask Rosalynn out.
Less than a year after their first date, Rosalynn visited Jimmy at the Naval Academy. He proposed with an engraved compact, but she said no. He grieved and persevered for months, and when he proposed again, she said yes. They married in July 1946.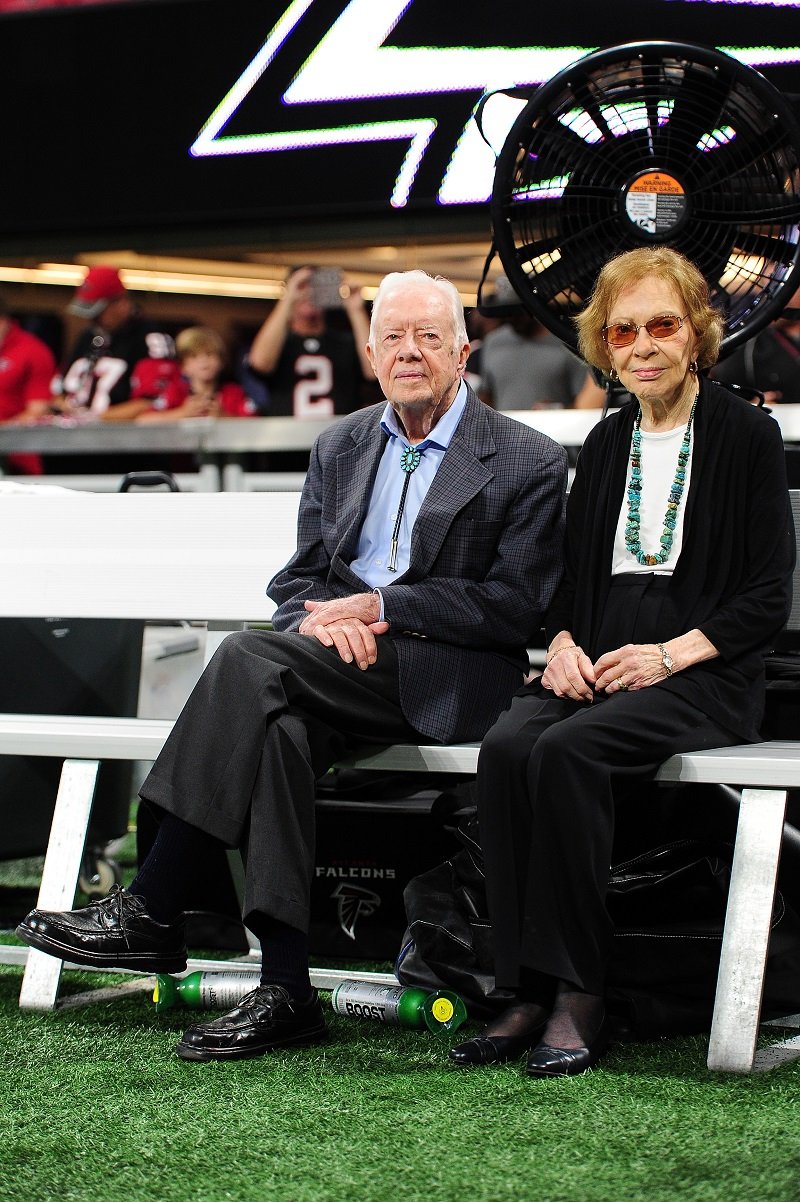 Jimmy Carter and his wife Rosalynn on September 30, 2018 in Atlanta, Georgia | Photo: Getty Images
MOVING OFTEN AND HAVING CHILDREN
Jimmy and Rosalynn's married life has been far from perfect. Due to his military duties, they moved and traveled often. Their first child, John, was born in 1947 in Portsmouth, Virginia.
In 1950, when the couple lived in Honolulu, Hawaii, James "Chip" III joined the family. They welcomed their third son, Donnel, in New London, Connecticut, in 1952, and their youngest child, Amy Lynn, was born in Georgia in 1967.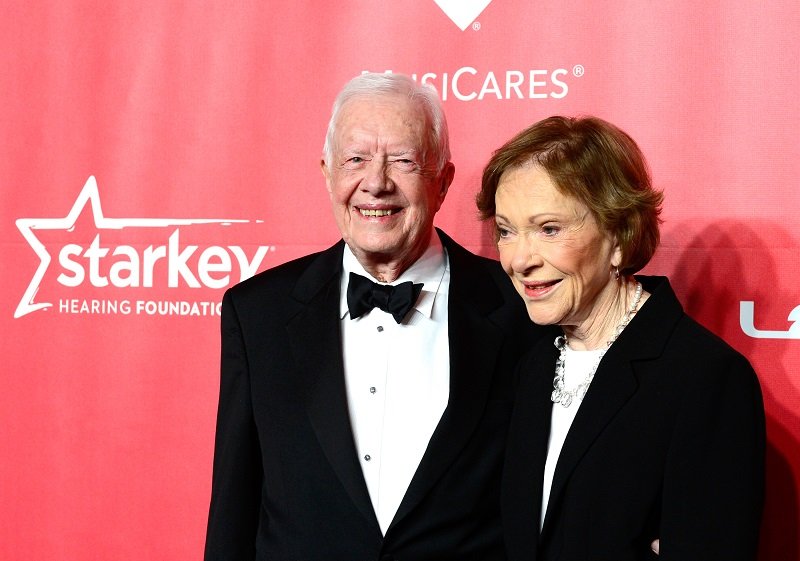 Jimmy Carter and Rosalynn Carter on February 6, 2015 in Los Angeles, California | Photo: Getty Images
According to Rosalynn, the mid-1950s was the rockiest period of their marriage. In 1953, Jimmy's dad passed away. Although Rosalynn was already used to living in Schenectady, New York, he took his family back to Plains to care for the family peanut business.
She was sure that the best part of her life had ended when they returned to Plains, especially because she couldn't find a role to put herself on equal footing with Jimmy. Luckily, she took over the farm's finances and helped it turn a profit.
People considered he used words that "don't sound presidential."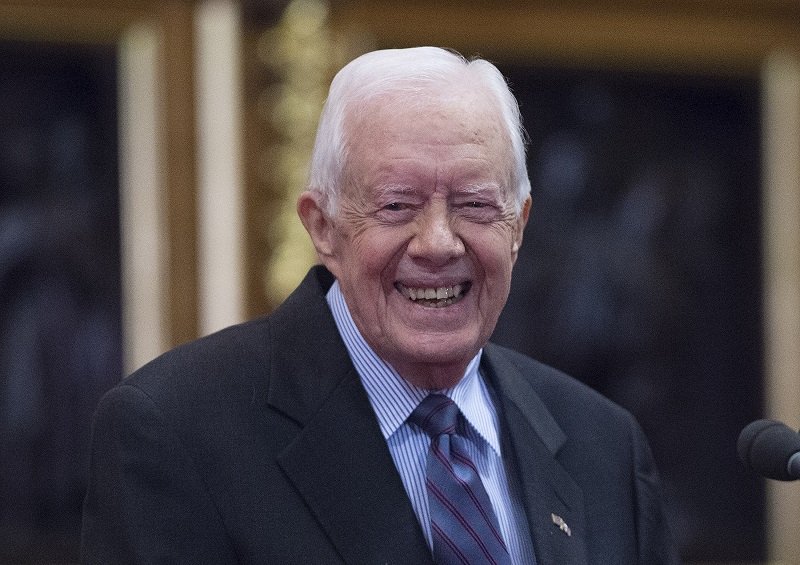 Jimmy Carter on February 3, 2016 in London | Photo: Getty Images
OPENING UP ABOUT HIS ADULTERY
In the 1960s, Jimmy started his career in politics by winning a seat in the Georgia State Senate. He became the Governor of Georgia in 1971 and the President of the United States in 1977. Rosalynn never stopped supporting him throughout the years.
The presidential couple made headlines in November 1976 (shortly before Jimmy was elected POTUS) when Playboy magazine released an interview where he talked about the importance of religion in his life. He said:
"Christ said, 'I tell you that anyone who looks on a woman with lust has in his heart already committed adultery.' I've looked on a lot of women with lust. I've committed adultery in my heart many times."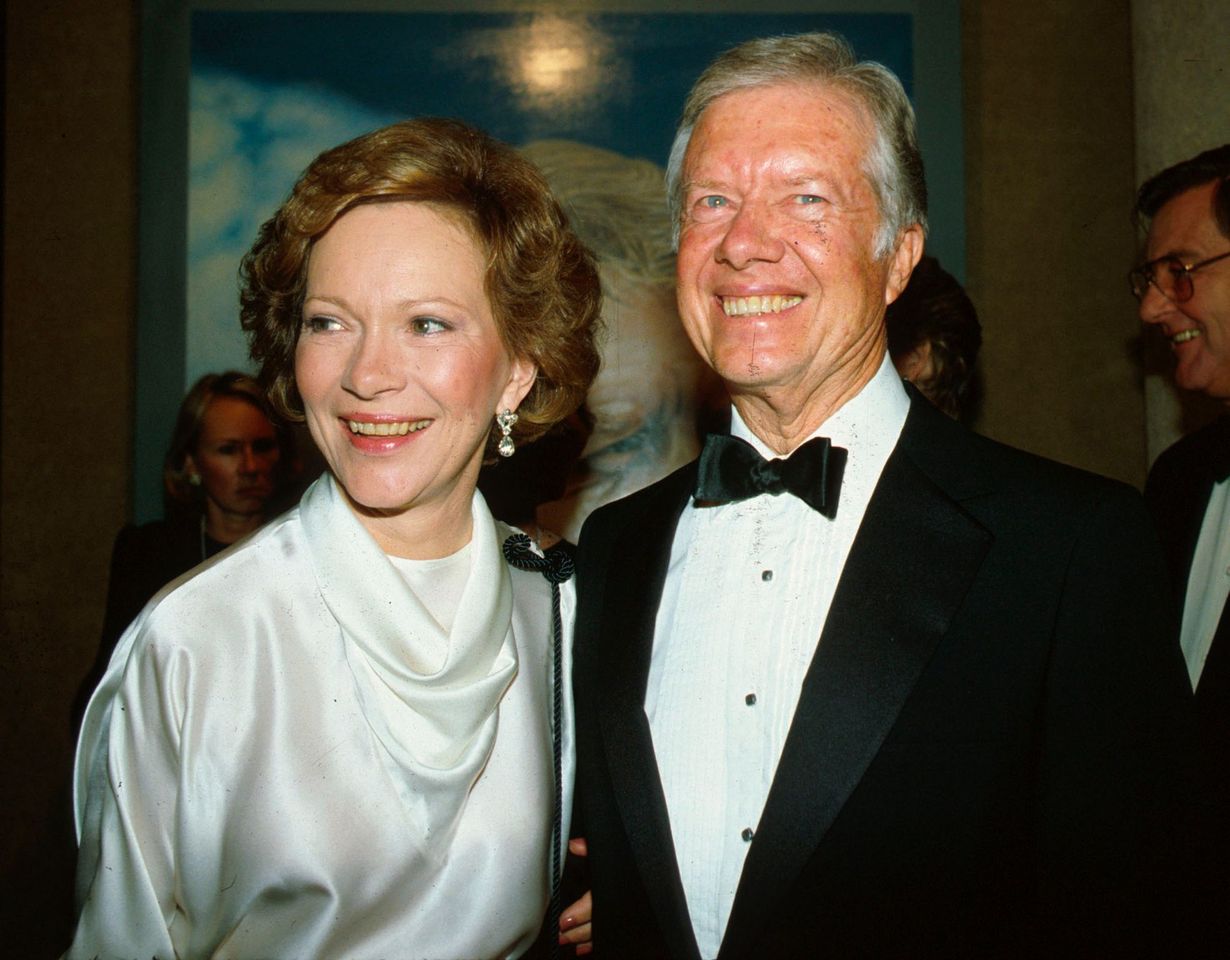 Jimmy Carter and Rosalyn at the Sotheby's Auction in New York City, on October 4, 1983 | Photo: Getty Images
It is essential to point out that Jimmy only admitted to looking at other women with lust, but he never said he cheated on his wife. Still, his interview was shocking.
People considered he used words that "don't sound presidential," but his honesty helped him win the presidential battle against Gerald Ford.
LEARNING THE SECRETS OF THEIR LOVELY MARRIAGE
Jimmy, 97, and Rosalynn, 94, have been married for 76 years and are still in love. The former POTUS, who still blushes while talking about his wife, was photographed kissing Rosalynn on 2021 New Year's Eve.
The couple was in Plains celebrating the annual "peanut drop." Jimmy enjoyed the event from his car while Rosalynn did it from the street. However, she quickly returned to the vehicle to kiss her husband.
Later that year, Jimmy and Rosalynn shared the secrets to their successful marriage: space. About the "policy" they agreed on, Jimmy said:
"We give each other plenty of space to do our own things. And we try to find things we like to do together, and we try to concentrate on them."
Some of the activities they've done together include skiing, bird-watching, fly-fishing, and playing tennis. They discovered they had plenty of everyday things to do together by doing all that.
Rosalynn and Jimmy also avoid going to sleep angry at each other. They argue "often," but they always try to get over it before bedtime. What a lovely couple!