Celine Dion Condition Continues To Deteriorate – She Cancels Her Entire World Tour
Celine Dion has admitted that she won't be appearing anywhere on her upcoming world tour due to ongoing health difficulties.
I'm so sorry to disappoint you all one more, she wrote in a tweet.
Celine Dion stated last year that she had been diagnosed with a rare neurological ailment, which sparked initial concerns about her health.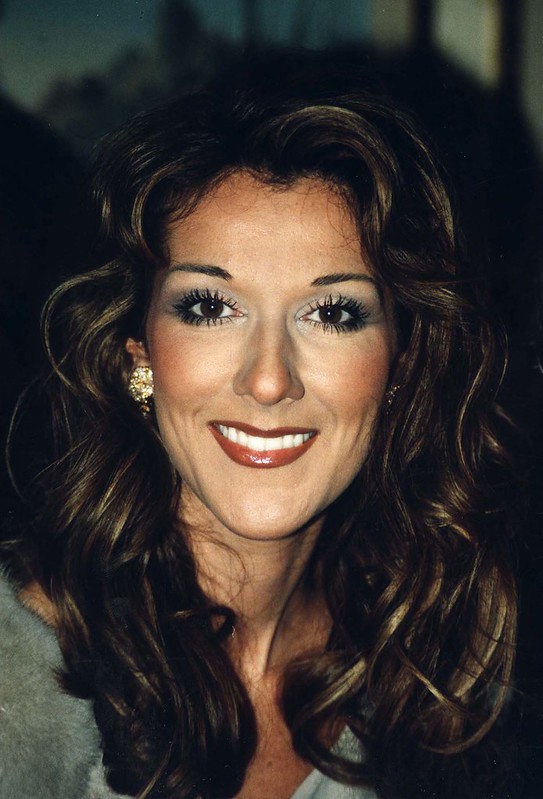 In a moving video she posted to Instagram, Dion revealed her "one in a million" illness, revealing that she had stiff-person syndrome, a degenerative neurological disorder that affects the brain and spinal cord and can cause severe spasms and limit mobility. The illness cannot be treated, although its symptoms can be controlled.
Dion's history of health issues, which included the cancellation of North American tour dates in January owing to muscle spasms, is known to her fans.Unfortunately, Dion's forthcoming 42-date tour has been cancelled, suggesting that her health issues are still present.She expressed her sadness over the choice in a social media post.
"I'm so sorry to disappoint all of you once again… and even though it breaks my heart, it's best that we cancel everything until I'm really ready to be back on stage… I'm not giving up… and I can't wait to see you again!" she said.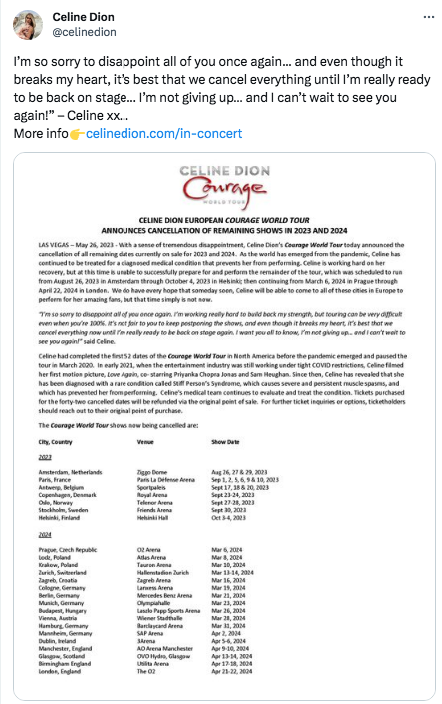 While her sister Claudette has provided information on Dion's health and expressed optimism since that time, Dion has maintained a low profile.
"I am confident that life will give her back what she gave because she is an extremely intelligent woman, so very generous and talented and in love with life as well," Claudette said to the Le Journal de Montreal.
"Rather than crying over her fate, I try to send her positive vibes in the hope that one day she will go back on stage."
Dion provided an update on her health around a month after the release of her most recent single. The official lyric video for her most recent number-one single, "Love Again," which serves as the theme song for the film's May 12 premiere, was released in April. The soundtrack includes "It's All Coming Back to Me Now," one of Dion's six prior hits, as well as five of her brand-new songs.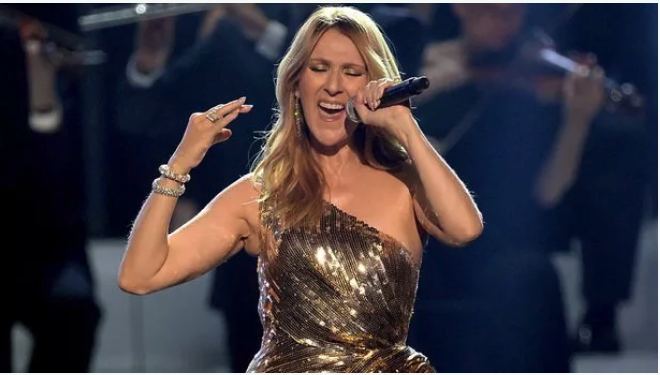 Celine Dion has sold more than 200 million records worldwide. Her most well-known songs include the Titanic theme "My Heart Will Go On" as well as the ballads "The Power of Love," "Because You Loved Me," and "It's All Coming Back to Me Now."Her albums Falling into You and Let's Talk About Love are two of the best-selling records in history thanks to their platinum certifications.
She has won five Grammy Awards, including the best record and best album categories. Her previous residency in Las Vegas broke the all-time revenue mark.
Celine Dion is a special talent, so we wish her the best. Even though she is currently unable to go on tour, we are pleased to see that she is still releasing new music.
Please SHARE this devastating news with Family and Friends and send prayers!